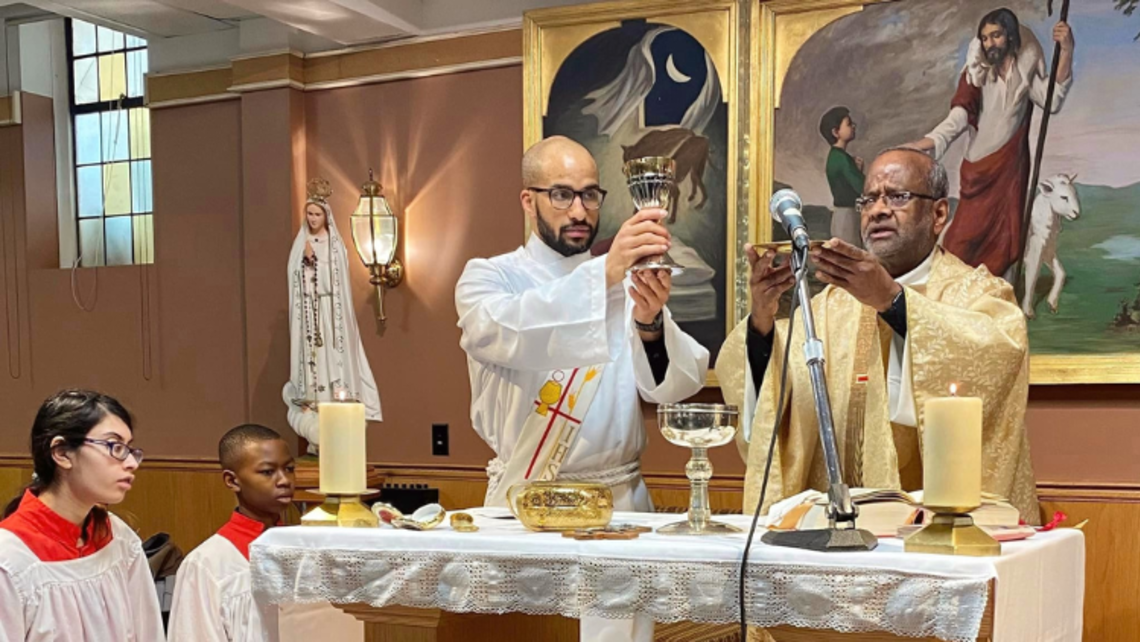 Dear Confreres,
Happy Feast of St. John Bosco, our founder, the father and teacher of young people. Some of our Salesian presences have organized spirit week, while others include the life of Don Bosco as part of the curriculum at this time of year. Choirs are practicing Don Bosco songs, churches are being decorated, and holy cards are ready to be distributed. These are all great ways to honor this giant of sanctity.
Of course, there are deeper meanings to the Feast of Don Bosco. Just a few months after Don Bosco's death, Bl. Michael Rua included this short section entitled, "Let us try to make ourselves more and more worthy children of such a father," in his first circular letter dated March 19, 1888:
The other thought that stuck in my mind was that we must consider ourselves very lucky to be children of such a father. Therefore, our solicitude must be to support and in due course develop more and more the works he started, faithfully follow the methods he practiced and taught, and in our way of speaking and acting try to imitate the model that the Lord in his goodness has given us in him. This, oh dearest children, will be the program that I will follow in my office; may this also be the aim and study of each of the Salesians.
Our province strategic plan, Goal One, is true to the program that Don Bosco's first successor proposed for himself and all the confreres and which Don Bosco's 10th successor renewed in the action program for the Congregation after GC28. Our province's strategic plan speaks of being clear and confident in our Salesian identity. Not in the way of triumphalism or superiority, but in humble acknowledgment of the charismatic gift the Holy Spirit has given to the Church and the world through Don Bosco and entrusted to the Salesian Family, especially to the SDBs. We have received the Salesian charism as a valuable inheritance, passed on to us by others who were faithful to it, not for us to lock it away in a bank vault, but to share it with all, especially the young and their families. With confidence and clarity, we can speak about Don Bosco and his living spirit at diocesan meetings, before boards of trustees, and with donors. In our parishes, we can celebrate his feast and all the Salesian saints with solemnity and enthusiasm. We are not imposing our Salesian spirituality on a diocesan parish; at the request of the bishop, we have been invited to offer the Salesian charism in a parish setting.
The names of our works—Le Salésian, Salesian High School, Don Bosco Cristo Rey, Don Bosco Prep, Cristo Rey Salesian, Don Bosco Center, Salesian Boys and Girls Club, Mary Help of Christians Center, Don Bosco Youth Leadership Centre, Salesian Missions, Don Bosco Parish, Don Bosco Residence, etc.—further confirm the confidence we can have in sharing the gift of the Salesian charism in all aspects of life and mission. We are Salesian not only in name, but in philosophy, methodology, pastoral practice, relationships, spirituality, and identity.
Among the many remarkable qualities of Don Bosco, what the young people could see most clearly is that he was a man of God. The renewal of the Salesian charism in the SDBs requires that each of us also be an icon of Jesus' lifestyle, totally consecrated to the Father and His plan for humanity—the Kingdom. The lay members of the Salesian Family will help renew the charism according to their unique vocations. We have the 2023 strenna to deepen our understanding of the rich and diverse ways of living the Salesian charism today.
As an expression of gratitude for the gift of the charism, let us live our vocation with generosity and fidelity. I invite you to send short articles and photos with captions of the ways you are celebrating Don Bosco and our Salesian Identity in your local Salesian work to Salesian News at communications@salesians.org.
Fr. Tim Zak
January 26, 2023 - 8:00am