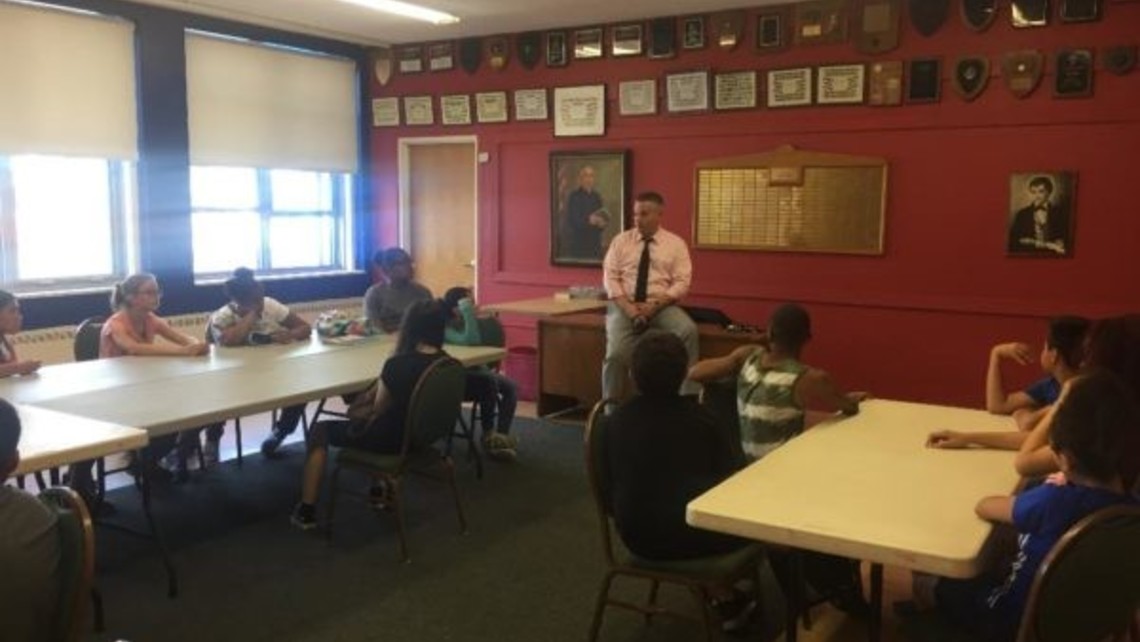 Story & Photo by Br. Lenny Carlino, SDB
(East Boston, MA – July 16) – During the weekly "orientations" (formal time once a week for teaching faith and morals), campers at the Salesian Boys & Girls Club Summer Camp in East Boston have been learning about their Salesian history and the Salesian Family. A special guest this week for the campers aged 12-14 was Anthony Guerriero, deputy director of Community Relations and Federal Affairs at Massport and instructor at Salem State University.
Mr. Guerriero spoke to the campers about St. Dominic Savio High School and how its legacy continues in the Boys & Girls Club. Anthony graduated from Savio in 1988 and spoke about many Salesians who left a positive impact on him during his time at Savio. He said that their example led him to get a degree in education and spend time working with youth. Mr. Guerriero identified the present Boys and Girls Club building as the old gym, locker room, and some of the classrooms of Savio. The Brooks Charter School across Byron Street from the Club now occupies Dom Savio's former main building.
Mike Triant, Savio Prep '97, executive director of Salesian Boys and Girls Club, also shared his experiences with the youths, including some photos from his senior yearbook. The event was a great opportunity to enlighten the campers concerning their role in continuing the story of Don Bosco's mission in East Boston.