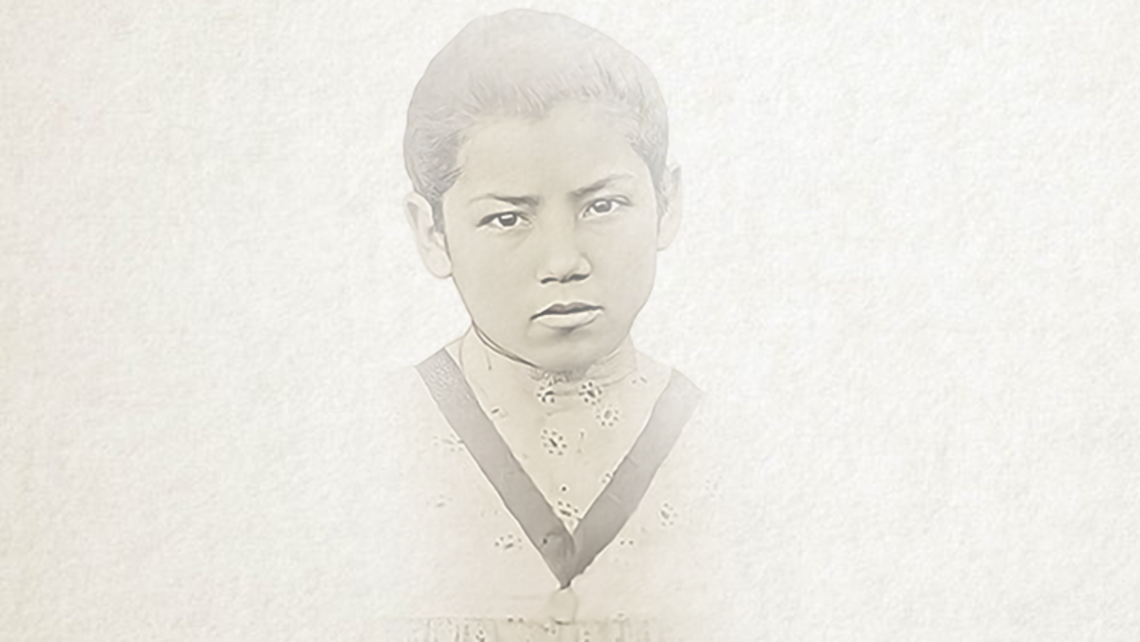 Date:
Monday, January 23, 2023 (All day)

to

Tuesday, January 24, 2023 (All day)
From Chile to Argentina
Laura Carmen Vicuña was born in Santiago, Chile, on April 5, 1891, to Joseph and Mercedes Pino. The Vicuña family, Chilean aristocrats, were forced into exile by a revolution. They took refuge in Temuco in a poor house, but Joseph died soon after. Suddenly, Mercedes had to take refuge with her two daughters in Argentina. They came to Junín de los Andes. Mercedes came to know the rather pushy Manuel Mora and accepted working for—and living with—him.
Boarding with the Sisters
In 1900, Laura went to board at the school run by the Daughters of Mary Help of Christians along with her sister, Julia. She was a model pupil: prayerful, obedient to the sisters, available to her companions, and always happy and ready to make sacrifices.
The following year, she made her first Communion with the same fervor and ideals as St. Dominic Savio, whom she had taken as a model. She entered the Children of Mary. While one of the sisters was explaining the sacrament of marriage during catechism, Laura began to understand her mother's sinful state and fainted. She also understood because, during the holidays on the farm, her mother made her pray in secret, and never went to the sacraments. From then on, Laura increased her prayers and sacrifices for her mother's conversion. During the holidays in 1902, Manuel Mora threatened Laura with a sexual assault; she firmly refused him, sending him into a rage.
Request Denied | Prayer for Mother
She went back to school as a student assistant because Mora would no longer pay her fees. With all her heart, she asked whether she could become a Salesian sister, but she was denied this because her mother lived in sin. She offered her life to the Lord for her mother's conversion, became more self-sacrificing, and, with the consent of her confessor, Fr. Crestanello, made private vows. Her health suffered from sacrifices and from other sicknesses, and she was beaten by Mora for having refused him yet again. On her final night, she confided: "Mama, I am dying! For a long time, I have asked Jesus, offering my life for you, so you will return to God. Mama, before I die will I have the chance to see you repent?"
A Prayer Answered
Mercedes answered, "I promise I will do what you ask." With this joy, Laura died on the evening of January 22, 1904. Her body lies in the chapel belonging to the Salesian Sisters in Bahia Blanca. At the centennial of Don Bosco's death, this chosen daughter, who had given her life for the virtue dearest to the Master, was proclaimed Blessed by St. John Paul II on September 3, 1988.

Biography taken and edited from www.sdb.org.
*Nota Bene: In the USA, Jan. 22 is an obligatory "Day of Prayer for the Legal Protection of Unborn Children" by directive of the USCCB, with two options for the Eucharist (see the Ordo).
The Salesian Family has two options concerning the observance of the memorial of Blessed Laura. The simpler option is to transfer the entire observance to an open day in the liturgical calendar, e.g., Jan. 23 or Jan. 20. The other option is to restrict the observance on Jan. 22 to only the Liturgy of the Hours; the Mass of Blessed Laura may not be used on the 22nd.
In Canada, the observance of the memorial remains on Jan. 22.