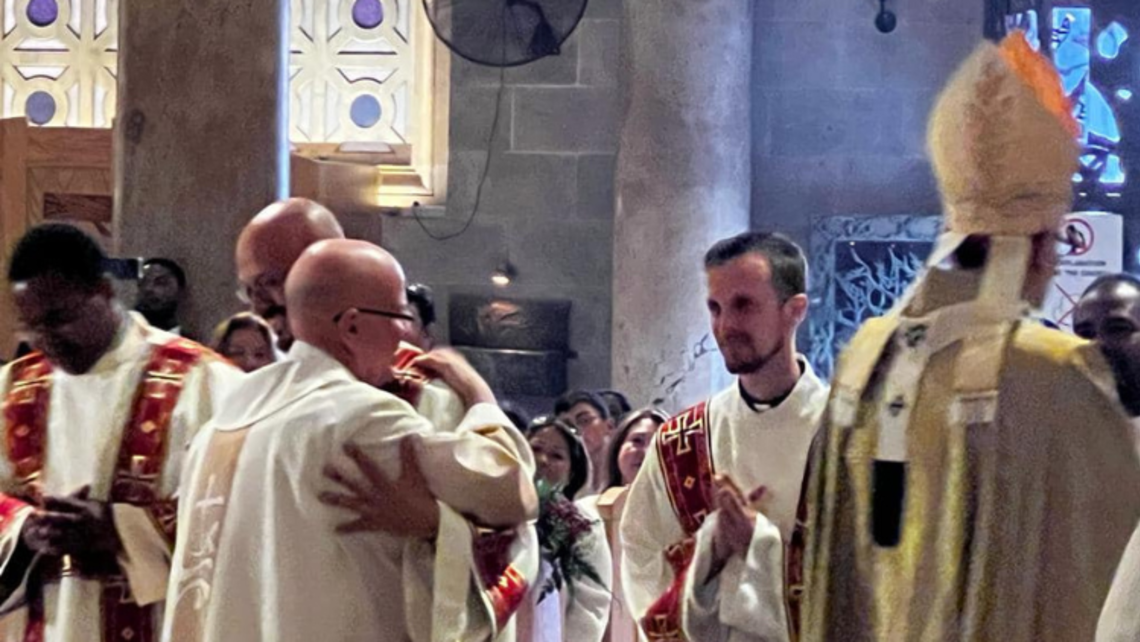 By Fr. Mike Mendl, SDB, and Julia St. Clair, Province Communications Coordinator
On Saturday, June 12, Br. Joshua Sciullo, SDB, of Jacksonville, FL, was ordained a deacon in Church of All Nations, Gethsemane, Jerusalem. The Latin Patriarch of Jerusalem, Abp. Pierbattista Pizzaballa, OFM, officiated over ordination of Dcn. Joshua and eight other Salesians to the diaconate. Dcn. Joshua belongs to the Salesian province of St. Philip the Apostle, which covers the Eastern USA and all of Canada. Many tuned in to watch the ordination via the live stream from Christian Media Center – English on YouTube.
Dcn. Joshua Christian Sciullo was born in Jacksonville, FL, in 1993, the last of Mark and Jody Sciullo's four children. Having originally belonged to Immaculate Conception Parish there, Dcn. Mark and Mrs. Sciullo are currently members of Most Holy Redeemer Parish in Jacksonville.
Joshua found the Salesians through an online search, prodded also by his father and sister. The priests and brothers of the Servants of the Home of the Mother religious congregation also influenced his vocational discernment. "The environment and relatability of the first Salesians" he met clinched his decision to enter Salesian formation at Orange, NJ, in July 2011. He advanced to the prenovitiate at Holy Rosary in Port Chester, NY, in 2013-2014 and thence to the novitiate in Rosemead, CA, in 2014-2015. He made his first profession on August 16, 2015, at Port Chester.
Dcn. Joshua had two years of postnovitiate formation in Orange, then went to Archbishop Shaw High School in Marrero, LA, for practical training (2017-2019). He taught freshman and sophomore religion. From fall 2019 until his ordination, he studied theology at the Ratisbonne Institute in Jerusalem (an affiliate of the UPS). Last summer, he was assigned to day camp at Mary Help of Christians Center in Tampa, FL. He also made his perpetual profession on August 21, 2021, at Stony Point, NY.
Having reflected on his 11 years and counting vocational journey, Dcn. Joshua "thanks God for bringing [him] thus far." He prays "that [he] can grow in love and trust in Jesus, so [he] may become a witness of God's love. In the coming days, Dcn. Joshua will return to SUE, where he will serve in the Etobicoke, ON, community. There, he will learn how to minister as a deacon at St. Benedict Parish and the community. For the coming school year, he'll be assigned to the formation community in Orange, NJ, where he will continue to serve as a deacon at Our Lady of the Valley Church and finish his theological studies at Immaculate Conception Seminary in South Orange. He looks forward to the opportunity to preach and assist at the service of the altar.